Wisconsin Bat Control
(262) 800-8040
Safe, Effective Wisconsin Bat Control Services!
---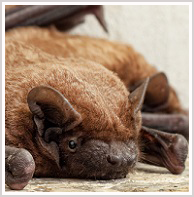 Stateline Animal Control Bat experts provide complete services to remove bats in residential and commercial sructures throughout Wisconsin. Often times bats will form colonies in homes attics, church belfries, warehouses and other structures. Although, bats are very beneficial to the environment they may impose serious health hazards. Bat droppings, also known as guano, can serve as a breeding medium for different types of fungus, some of which can cause diseases such as histoplasmosis. Bats also carry many different parasites such as ticks, fleas, and bat bugs. In addition to carrying parasites and harmful fungus's they can carry rabies. If a bat colony is discovered contact Stateline Animal Control to have them safely and humanely removed. Services are provided throughout areas of Kenosha, Lake Geneva, Janesville, and Twin Lakes and surronding Wisconsin areas.
Bat Exclusion
The most effective solution to getting rid of bats in an attic is a bat exclusion service. A Bat Exclusion is the most safe, humane solution to get rid of bats. With this service a bat is allowed to freely exit the home on their own without any harm or stress placed on the animal. Once these animals have exited the the attic, the exclusion prevents them from reentering. Bats are a federally protected species that cannot be harmed and this methods is the most safe, humane effective solution to a bat problem. Stateline Animal Control operators are bat exclusion experts and provide services throughout Kenosha, Lake Geneva, Twin Lakes, Waterford, Racine and surrounding Wisconsin areas.
Bat Control services should always be performed by a trained licensed wildlife control operator that posses a nuisance wildlife control permit from the Wisconsin Department of Natural Resources. If an exclusion is not done properly and thoroughly, bats often find their way back into the premises. Never hire a pest control company or handy man to resolve a bat infestation. These individuals do not deal with bats on a daily basis and often don not execute a bat exclusion properly. This commonly leads to bat reentry and repeated call backs for the homeowner to get their bat problem resolved. In addition wildlife control companies can often provide homeowners a warranty for bat exclusion work. Rest assured Stateline Animal Control can resolve your bat problem completely, safely and effectively the first time, call us today to solve your bat problem!
More information on Wildlife Services provided by Stateline Animal Control can be found on our Wildlife Removal Service page.